The blockchain is one of the most industry-disrupting technologies in recent memory. A blockchain is defined as a record of transactions made in a cryptocurrency that is maintained across several computers in a peer-to-peer network. Although mostly used for banking, it allows developers to create decentralized platforms to solve nearly any problem caused by centralized authority systems like governments or private institutions.
In order to capitalize on the lucrative nature of the blockchain, many stocks have begun entering the market. These blockchain stocks allow traders to invest in the blockchain without purchasing any digital currencies. Like any traditional US stock, blockchain stocks are traded with US dollars. The best way to dive right in is to learn a bit more about blockchain technology.
Who Owns the Blockchain?
The Blockchain is a decentralized platform that isn't controlled by anyone directly. Although the original blockchain was built by Satoshi Nakamoto, it was designed to exist without needing anyone controlling it. While nobody owns the blockchain, there is a way to become the dominant influence of it. If you own a large portion of the computing power mining coins, then you determine how fast each currency is created. Many companies seek to have the most resources poured into blockchain technology.
Which Companies are Using the Blockchain?
All smart companies who desire to keep up with the latest tech are migrating to the blockchain. There are a few companies that have made large headway by being one of the first in their industry to adopt the blockchain. SALT Lending, Mythical Games, Gemini, IBM, Circle, Coinbase, Steem, and Voatz are some of the most noteworthy examples. Each of these businesses relies on blockchain technology to provide its goods and services.
What is the Stock Symbol for Blockchain?
Blockchain is a technology that is used by a wide variety of companies. There isn't a single symbol that encompasses the entire platform. Instead, each individual company has its own stock symbol to represent them. Of course, this makes anyone wonder which are the top blockchain stocks to invest in.
The Best Blockchain Stocks to invest in
There are a few blockchain-based companies that have massive potential for steady growth. All companies that can utilize the blockchain to augment their business are granted a Blockchain Score. This score ranges from 0 to 100 and provides an analysis of a company's blockchain potential. Here is a list of the best blockchain stocks to consider in 2020.
1. IBM
IBM has an impressive 92 Blockchain Score. It is currently the market leader in blockchain technology. IBM has stayed at the forefront of tech since its inception in 1911. In addition to blockchain, IBM has made compelling strides into artificial intelligence, cloud computing, and the internet of things. They currently employ over 1500 blockchain experts to oversee more than 500 different projects. Most of these projects involve using Blockchain as a service. They even created the IBM Food Trust, a blockchain-based program that improved the food safety standards of Walmart.
2. Alibaba Group
Alibaba is known as the Chinese Amazon. This online retailer has a commendable 77 Blockchain Score. They have a whopping 90 different blockchain patents in the works. Even IBM only managed to draft 89 in the same time frame. Alibaba has begun to incorporate the blockchain into as many subsidiaries as possible. Lynx, their logistics division, has already undergone massive changes. Alibaba has even partnered with the Chinese government to provide blockchain-based healthcare. After the success in their own country, Alibaba has recently started to expand their cloud services globally.
3. Fujitsu
Fujitsu is the seventh-largest IT provider throughout the entire world. The Japanese firm has a solid 74 Blockchain Score so far. The Japanese Banker's Association handpicked the company to spearhead its Collaborative Blockchain Platform. In addition to that partnership, Fujitsu has also opened up a Blockchain Innovation Center in Belgium. On the service side, they offer fast track consulting based on the Proof-of-business algorithm.
4. Mastercard
This well-known credit card company has a Blockchain Score of 69. This is especially impressive when you consider how Blockchain technology is meant to make centralized middlemen like Mastercard obsolete. However, Mastercard has positioned itself to take full advantage of the new technology. They primarily use blockchain to reduce transaction times, lowering costs, and preventing fraud. If they iron out all of the kinks, blockchain could be used to save billions of dollars each year that is normally lost to theft and fraud.
This Dutch banking and financial services firm have a sizeable Blockchain Score of 53. The Group jumped at the chance to incorporate the blockchain into their business. This has helped them grow immensely in such a short period of time. They joined the Fray by working with Easy Trader Connect. This platform allowed users to trade a variety of financial commodities. They currently have 44 proof of concept projects in the works. They already have eight live projects that provide a stable base.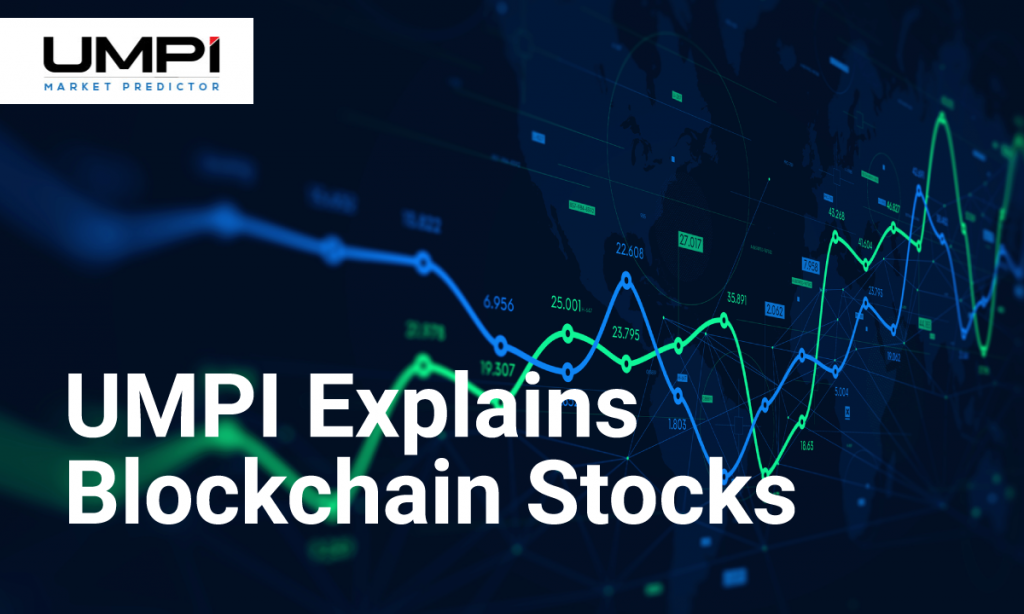 The Universal Market Predictor Index (UMPI)
The best way to predict stock market trends is to use a software programmed to analyze the market. UMPI is one of the finest services for accomplishing just that. They have a robust algorithm that tracks trends with ease. This gives you plenty of info to make better trading decisions. UMPI helps you time the market with a higher degree of accuracy than any other market system. If you want the easiest way to improve your chances of profit, try out UMPI.
Blockchain technology is being used in a cavalcade of different ways. The way the world does business is rapidly evolving thanks to this emerging tech. It's no longer a question of if blockchain will be successful, it is now a question of when. Investing in companies that are embracing the blockchain is a great way to ensure steady profits for years to come.